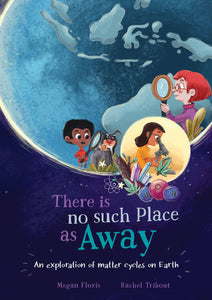 Join us on a journey of discovery as we explore the story of everyday things on Earth. Stories full of adventure, relationships, change and surprises. Stories with a past, a present and a future. The more we learn about these stories the better we can understand ourselves and the world around us. 
Come and see how things move and change and find out if they really do go away?
The simple, engaging text introduces children to the scientific concept of matter cycles on Earth and the foundation of a scientific mind – curiosity. The beautiful and fun illustrations are packed with clues and the parent/teacher notes provide avenues to continue the exploration and develop a habit for life cycle and living systems thinking.