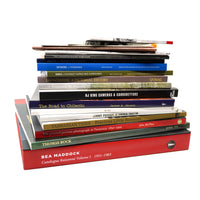 QVMAG Publications
Queen Victoria Museum and Art Gallery
Established in 1891, the Queen Victoria Museum and Art Gallery is Australia's largest regional Museum and Art Gallery.
Located in Launceston Tasmania QVMAG has been publishing scientific records, occasional papers, exhibition catalogues and books since 1905.
Electronic versions of the Records of QVMAG are available free online via the Biodiversity Heritage Library.
Starting with no. 120 (June 2020), all QVMAG Records are published in electronic format only and made available at no cost. Print copies of all previous Records are still available for purchase via the QVMAG Shop.
Shop Now