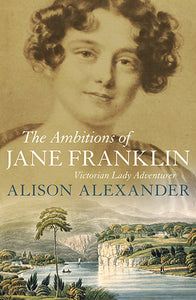 In a period when most ladies sat at home with their embroidery, Jane Franklin achieved fame throughout the western world, and was probably the best travelled woman of her day.

Alison Alexander traces the life of this inimitable woman, from her birth in late eighteenth-century London, her marriage to Sir John Franklin, the famous Arctic explorer, and her many trips to far-flung locations.

Arriving in Tasmania in 1837 when Sir John became governor, she swept like a whirlwind through the colony: attempting to rid the island of snakes, establishing a scientific society, adopting an Aboriginal girl, and sending a kangaroo to Queen Victoria.

When her husband disappeared in the Arctic on an expedition to discover the Northwest Passage, she single-handedly turned him from a failure into one of England's noblest heroes. She continued travelling well into her 70s and died at age 84, refusing to take her medicine to the last.
Winner of the 2014 National Biography Award.