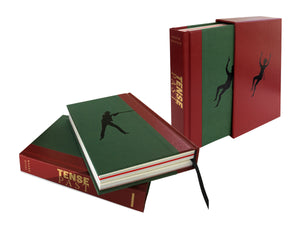 TENSE PAST documents Gough's major survey exhibition held at the Tasmanian Museum and Art Gallery, Hobart from – .
This epic exhibition, curated by Dr Mary Knights, showcased 25 years of Julie's art practice and reunited more than 30 artworks from collections across Australia.
Quarter bound with calf leatherette (reconstituted leather), debossed foil titling, black satin ribbon - combination of four deluxe papers.
Size: 205mm x 104mm, 328 pages, 120 images.
Standard edition, no slipcase.