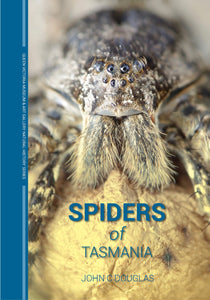 Queen Victoria Museum & Art Gallery Natural History Series
This book illustrates many of the spiders found in Tasmania, including the common, the unusual, the new and those that are yet to be formally described and named. It is a resource for those who wish to identify the spiders they encounter in the house or garden, along with the naturalists out exploring the Tasmanian wilderness.
 John Douglas is an Honorary Research Associate with the Queen Victoria Museum and Art Gallery. John's use of macro photography gives the closest possible image of each spider and also highlights the key features necessary for correct identification.