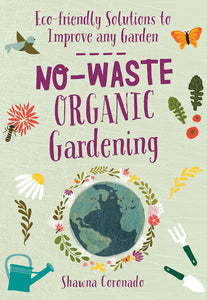 In No-Waste Organic Gardening, author Shawna Coronado guides you toward a more sustainable landscape with dozens of tips, tricks, and solutions that save you time and money—all while saving the planet, too! 
Learn how to:

upcycle household discards to grow seedlings

turn yard debris into "black gold" in a DIY compost bin

control pests with traps made from household discards

build a rain barrel from an old trash can

mix up your own potting soil to reduce plastic bag waste

protect spring plantings with repurposed jugs, jars, and containers

build a new raised bed with everyday items—no power tools required!
Eco-friendly solutions to improve any garden!