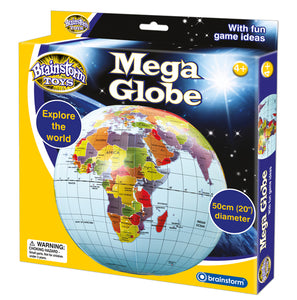 This mega 50cm inflatable political globe comes in an original and colourful design. The globe has a high quality finish and shows longitude and latitude lines.
Children can throw the globe to each other and identify continents, countries, capitals and oceans making geography fun for all of the family.
Includes an educational game ideas sheet for use at home, in the school classroom, or even for learning geography whilst playing on the beach or at the park. The globe is easily inflated and can be hung up to create an eye-catching display.