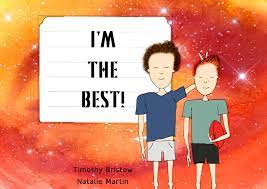 Together, brothers, Billy and James do everything. Game time is the best; unfortunately, as the boys find out, it doesn't always go to plan. Billy and his younger brother battle it out in the backyard, driveway and even inside the family home on a quest to become the champion of everything.
I'm The Best is the second in the series of Billy's amazing adventures, this time encouraging readers to reflect upon the treasures of having a loving family.  There's nothing quite like sibling rivalry; triumph, torment and the unconditional love for one another are captured in this all-conquering picture book.

Written in 'OpenDyslexic' font, this tale inspires even the most challenged readers to embrace the reading experience. 

Paperback edition.