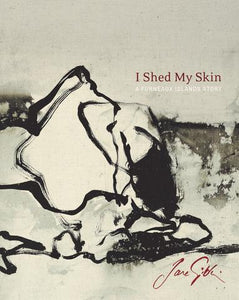 I Shed My Skin, A Furneaux Islands Story evolved out of an exhibition of Jane Giblin's artwork which toured Tasmania in 2019. It revolves around strangers who come to a remote land and learn how to win a living from it. Traditions and relationships to the Furneaux Islands, built since the 1890s, were consolidated across five generations. During the latter part of the twentieth century significant changes had to be met. 
Giblin travelled up and down the eastern seaboard of Australia interviewing her father's cousins in addition to some senior Furneaux community members. She knew there was art to be made and stories to tell from their island lives. She sought memories of her great grandparents, feelings about the islands, and farming and birding as well as how they were acclimatizing to changed land access and tradition due to successful land rights claims by local First Nations people. 
Giblin's part-collaborator on her exhibition and book is retired lecturer in geography and well-known Tasmanian writer, Pete Hay. Hay accompanied Giblin on some of her visits to people and island places of significance; his wit, grit and heart providing a rich sounding board. His poetry and prose add significantly to Jane's observations and artwork in this beautifully presented publication.
Hardback, 268 pages.