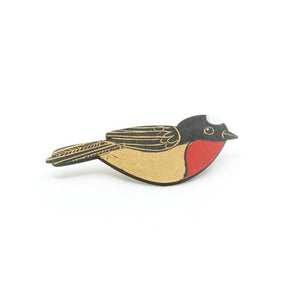 This gorgeous handcrafted timber brooch has been lovingly handmade by Tasmanian artist Monica Reeve.
Inspired by the gorgeous little birds flitting around her cottage garden, this brooch was designed by Monica, laser cut locally, then back to Monica to be hand printed from a hand carved printing block, then hand coloured and sealed by Monica!

Every brooch is individually handmade, there may be slight variations which is what makes each one unique!
Made in Tasmania.