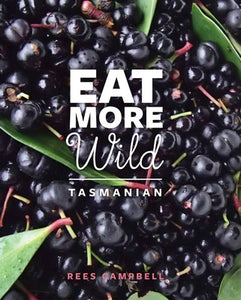 'Use the bush as a library, not a supermarket', is the mantra of Eat More Wild Tasmanian. Building on the sell-out popularity of Eat Wild Tasmanian, Rees Campbell furthers our understanding of the gastronomic wonders of the bush around us in this revised and expanded edition. Discover which native plants are edible, which will suit your garden, when and how to harvest them, and how to cook from Tasmania's botanical larder with even more delicious, straightforward recipes.
For foragers, this book also includes a large section on identifying, collecting and eating tasty but often invasive weeds and feral plants.
Eat More Wild Tasmanian also builds on the research of the original edition to provide greater insight into Tasmanian Aboriginal uses of wild plants, and now references the palawa kani words for more than 50 native species.
In a world challenged by food insecurity and climate change, eating local is a logical and positive step; eating wild and feral even more so.
Replete with colour photos and distribution maps, this book will be your essential companion in the bush, the garden and the kitchen to help you eat more wild. 

Hardcover.