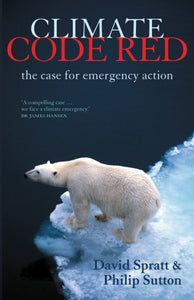 This meticulously documented call-to-action reveals extensive scientific evidence that the global warming crisis is far worse than officially indicated — and that we're almost at the point of no return.
Serious climate-change impacts are already happening: large ice-sheets are disintegrating, sea-level rises will reach 5 metres this century, and we are seeing devastating species loss.
It is no longer a case of how much more we can 'safely' emit, but whether we can stop emissions and produce a deliberate cooling before the Earth's climate system reaches a point beyond any hope of human restoration.
These imperatives are incompatible with 'politics as usual' and 'business as usual' — we face a sustainability emergency that urgently requires a clear break from the politics of failure-inducing compromise.
Paperback.