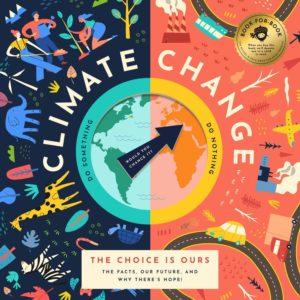 This interactive book outlines the causes of climate change and gently explores its consequences like rising sea levels, more extreme weather, and drought. Though not shy about uncomfortable realities, also emphatically teaches hope for the future and includes timely recommendations for what kids can do. 

Most importantly of all, the book's built-in spinner offers readers a choice on every page: spin the arrow and leave climate change to chance, or do something about it.
Colourful illustrations, simple text, and research from trusted sources like NASA, NOAA, and the United Nations.
 Hardback edition.