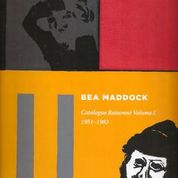 Acclaimed as one of Australia's most compelling artists, Bea Maddock is best known as a printmaker whose concern with the human spirit has been the foundation of her life's work.
This Catalogue Raisonne comprehensively addresses the many aspects of Bea Maddock's work. It examines her artistic practice across all mediums and provides an image of almost every work in existence, a detailed biography and examines materials, techniques and working methods.
A CD–ROM of images accompanies this 480-page hardcover catalogue.