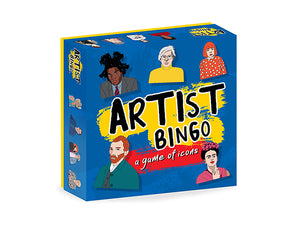 Celebrate modern history's greatest and most beloved artists through the most cultured game known to humanity, Bingo!
Here you'll find the world's best painters, sculptors, performance artists and photographers assembled together – in a handy game box! From Banksy to Basquiat, Haring to Hockney, and Yayoi to Yoko, Artist Bingo is the perfect chance to see your favourites and discover lesser-known artistic geniuses along the way. Bingo has never been more high-brow!
Contents: game board, 8 double-sided bingo cards, 48 tokens and 150 counters.