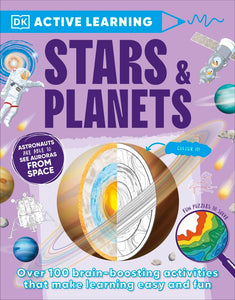 Learn all the essential facts about our solar system and beyond in this illustrated, interactive, and educational activity book for kids.
How old is the universe? How was the Earth formed? What lies beyond our solar system? 
Active Learning: Stars & Planets
 covers all these questions and more! Children will have fun learning through doing, with dozens of different activity types to fully engage with and explore the stars and planets in outer space.
Children aged 8-12 will be occupied for hours as they pore over the information-packed pages in this space activity book and tackle the wide range of puzzles - including mazes and tangles, code-breakers, matching games, anagrams, word searches, logic games, classification and identification games, quizzes, sudoku, odd one out, drawing, and colouring.