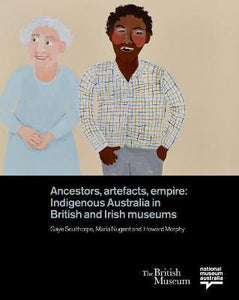 Using Indigenous Australian art and artefacts preserved in museums across Great Britain and Ireland, the authors present a global history that entwines ancestral pasts with epochs of empire and colony leading to the contemporary moment.
• Stunning photography of recently discovered and never-before published material
• Innovative and incisive analysis and interdisciplinary scholarship
• Advances contemporary endeavours to grapple with the challenges and legacies that museums with valuable historic ethnographic material now face 
Museums across the United Kingdom and Ireland hold over 39,000 Aboriginal and Torres Strait Islander artworks and artefacts. Gifted, sold, exchanged and bartered by Indigenous people, and accepted, bought and taken by explorers, travellers and colonial collectors these rare objects date from 1770 to the present day, representing all regions of the vast Australian continent.

Gaye Sculthorpe, Maria Nugent and Howard Morphy. 
Published by the National Museum of Australia, October 2021.
Hardcover edition, 256 pages.