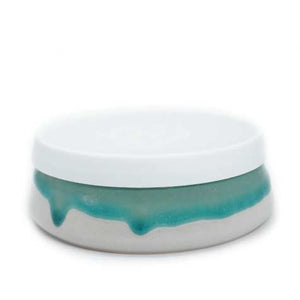 Arrive at work in style, knowing you are making a difference by choosing to give up plastic lunch containers!
Designed to stack, these ceramic serving bowls make picnic dates, dinners, or lunches easy and stylish.
Aqua glaze running over white, Glacier design may vary from soft green through to bright blue just like the face of an ancient glacial ice shelf.

All ceramic bowls are handmade and one of a kind. You will receive a bowl similar to what is pictured but no two are the same.
Large bowl: H7cm, W19cm, capacity 750ml – white 100% silicone lid.
Designed in Australia.